Tell me something, When did you purchase a product without researching on the internet?
Before Android phones! Right?
Admit it or not, the internet is the second home for many of us in this digital world and it impacted the way of making purchase decisions.
Whether you're planning to buy a car/bike or find the best malls for shopping, your fingers move faster than your brain to check ratings and reviews.
While each of us is amused by the internet search for the best products and services, the final purchase results from lots of research on the internet based on positive ratings and reviews.
So, are you aware of what people say about your company?
In the era of social media, brand perception is the key to success regardless of the industry.
Let's learn about online reputation management and why it is necessary for businesses.
What is Online Reputation Management?
ORM is a continuous process of building and monitoring your brand identity on online platforms. It is the combined effort of digital marketing, SEO, and public relation to promote your brand identity over the internet. ORM manages your reputation by responding to your customer's comments and ratings on time and accurately to create a positive impression on the brand.
How does ORM work?
The way your business portrays on the web ultimately determines whether you have a huge client base or strive for the same.
ORM works by balancing its negative content by adding positive content on the web. For example, suppose there are negative reviews on a product then the ORM agency will add positive feedback to ensure the brand value.
Most of the time after receiving products google reminds us to give ratings for the product. This helps the brand for its overall reputation.
Moreover, ORM agencies accentuate leveraging both paid and earned media to circulate content that helps grow brand value.
Importance of ORM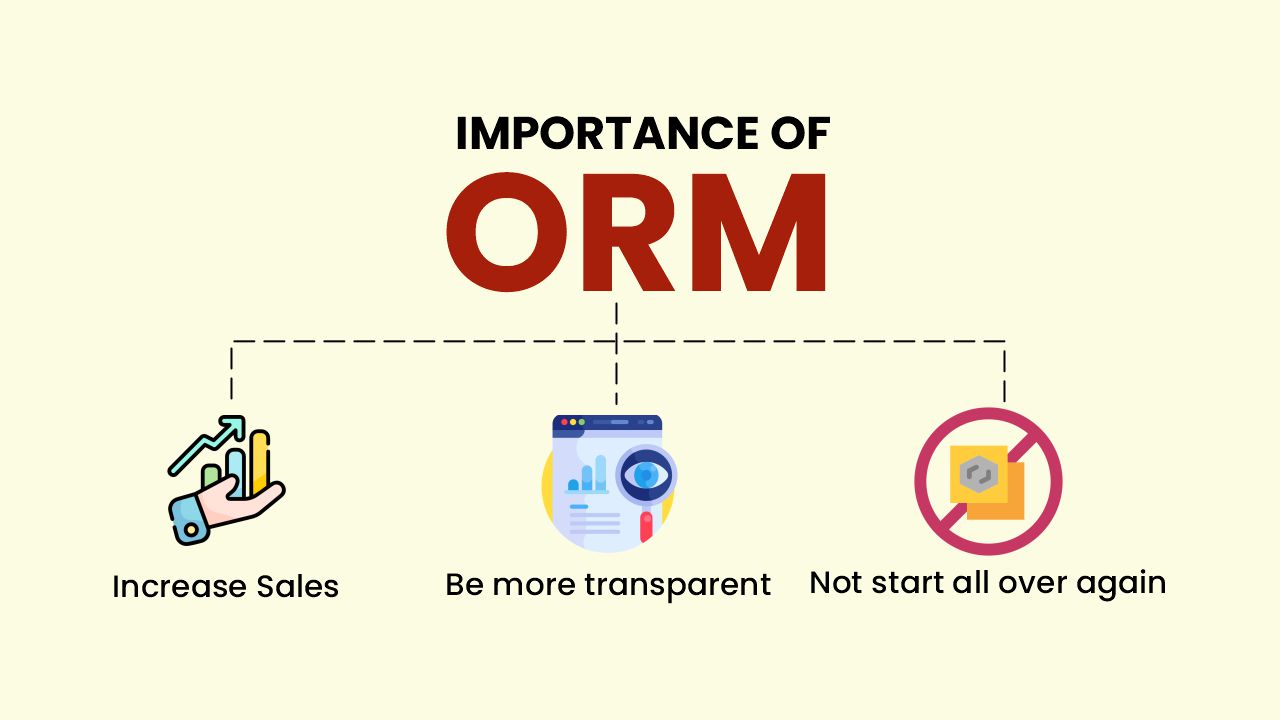 Now you have gotten enough idea about ORM and how it emphasizes your brand value. Let's have a look at some of the importance of ORM both for customers and businesses.
Customers research reviews and ratings about a product or service before buying it. Personal reviews matter a lot to consider the service is reliable. Many studies found that 94% of users choose not to do business with a company if they have bad reviews. Thus, if your service is covered with maximum positive reviews and responds to negative ones, users will recognize that you provide high-quality products and are happy to improve their services.
Transparent companies share ups and downs with their customers and engage with them. Addressing criticism publicly and maintaining open communication is the only way to show your status. 85% of users acknowledged being more faithful to transparent companies.
It takes a lot of time to make a brand on top with a positive impact. If you leave a single negative impact without replying and it goes on top of google, it will ruin your brand value. That's why it is important to observe online reputation regularly and respond on time.
Online reputation impacts how others perceive your brand and provides tools to improve your communication and understand customers' needs.

How to Manage Your Online Reputation
Now the question arises of how you can manage your brand reputation.ORM implies tracking companies' images on every platform. Since every industry has a different target audience, one needs to work on several areas to ensure they prepare the best ORM strategy.
Here are the elements that help to manage and maintain an online market reputation.
72% of customers purchase after viewing ratings and reviews. There are several places where you can find reviews:
Social media
Review websites
Own website
E-commerce sites
70% of users perform online research before reaching out to any company's services. Search engine reputation management(SERM) helps to represent your product and services on the first page of search results. It's better to post positive reviews, blog posts, and social media posts on your website and social profiles by mentioning third-party platforms.
If you provide valuable information with proper keyword formats, the search engines will rank your content and it helps to increase your brand value.
Final Thoughts
You can give a boost to your online reputation by hiring an online reputation management agency like Yuved Technology that ensures to provide and build a strong brand reputation. you will be able to collaborate with highly experienced experts that fulfill your marketing goals.
Contact us today to get started on an exciting journey!