Take Advantage of Amazon's Growing Online Marketplace
Being present on Amazon.com is necessary to reach audiences looking for products in the increasingly mobile environment. You need a strong SEO presence to ensure that your products appear in searches for your target markets in order to increase Amazon sales for your products. You're most likely besieged by those Amazon Prime delivery vehicles at this point. These days, they appear to be everywhere. And with good cause. For companies trying to increase their profit line, the advantages of Amazon SEO are obvious. Making that happen requires working with an Amazon SEO business that plays well with Amazon SEO.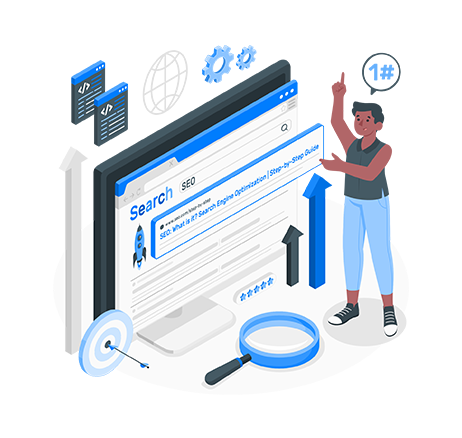 We handle all of your Amazon listing optimizations from setup to sunset
Setting up Seller Account
Your account, your products, and your inbound shipping strategy will all be set up by our Amazon SEO firm in collaboration with an Amazon Sales Agent. Then, our Amazon SEO company ensures that your account is prepared to begin accepting product orders.
In order to help you set up your Amazon Brand Registry, we'll support you while speaking with the Amazon client team. Once everything is set up, you are qualified to receive A+ branded material. Your patented goods will also be safeguarded.
Your current account and product listings will be thoroughly audited by our Amazon SEO business. We'll identify any problems that need to be fixed, assess the effectiveness of your current listings and campaigns, and then offer a tactical execution strategy to boost your product sales. When your product listings have been approved, our staff will optimize them to raise their search rankings for popular keywords related to your product categories.
Our Amazon SEO company will employ top-notch tools as part of our thorough account audit to identify your top competitors and spot possibilities to steal market share from them. Pricing, promotions, coupons, offensive targeting, and focusing on related product categories are just a few examples of specific strategies.
Blueprint Of Amazon Review
Reviews and ratings play a significant role in both Amazon SEO and customers' purchasing decisions. Because of this, Yuved suggests approaching Amazon Ratings & Reviews in a proactive manner. The automated Rating & Review requests will be set up by our Amazon Strategists using a third-party service in accordance with Amazon's stringent guidelines. For the best review collecting, these automated queries will be branded, tailored, and timed according to the seller's requirements. Additionally, this service offers review notifications. These alerts provide sellers the chance to respond quickly to any unfavorable consumer feedback, boosting the possibility of having bad reviews taken down or modified.
Your Amazon-sponsored ads will be managed and continually enhanced by our PPC Amazon advertising specialists. With high ROI and low ACoS, you will receive customers through automated, manual, and social sources.
The Amazon SEO services offered by Yuved concentrate on some of the most important elements, such as relevancy level. The details of your products are also made clear and precise as part of our Amazon optimization service, which is essential for improving your rank on Amazon and growing your conversion rate.
Your Very Own Amazon SEO Experts
Yuved began as a small, regional digital marketing business in 2021 and has since grown to serve clients all around the world. Our capacity to produce the kind of work that can boost Amazon sales is a contributing factor to our success.
Our clients are aware of our expertise on Amazon and our ability to transform it into a thriving bottom line. With the help of Yuved's Amazon listing optimization service, you can stay one step ahead of the competition.