Have you set up your GMB(Google My Business)? Is it not seeing a lot of action? Your GMB listing may be ranking well but not getting the clicks and attention you expect.
Nowadays the local search results in Google are getting more crowded. When you throw in featured snippets like answer boxes, calculators, tables, and more, then you'll see why it is so difficult for any single item on the page to get much attention.
If you want to get more clicks on your GMB listing, then follow the tips:
Q&A Feature
GMB has introduced a question-and-answer section that is rarely used by businesses but offers an opportunity to get more clicks and get your listing to show up more in the local SERP. Anyone can ask a question and can answer by using this feature. Add more Q & A's on a regular basis.
Regular Postings
As similar to Facebook, you can also post updates about your business on your Google My Business listing on a regular basis.
You can post Updates, Offers, Events, Products etc.
Photos & Videos
Adding photos and videos on your GMB Listing is a great way. Because visuals play a big role in making your listing stand out and also provide lots of information about your business.
Add Products & Services
Adding your products or services to your Google My Business listing is a great way to expand the content of your listing to make it stand out as well as provide relevant information to people.
Attributes
Adding attributes to your GMB listing is a fantastic way. It shows the key bullet points of information to people viewing your listing.
Increase Google Review Count
One of the best and most effective ways to get more clicks for your GMB listing and to make it stand out is to get more positive Google reviews for your listing. Always try to respond to the reviews.
Enable Messaging
GMB has a messaging feature where people can directly message you and start a conversation. By default it is an inactive mode, you have to activate the feature.
Appointment/Booking Links
Giving people the option to schedule appointments or make bookings online can greatly increase the clicks you not only get for your listing but for your website.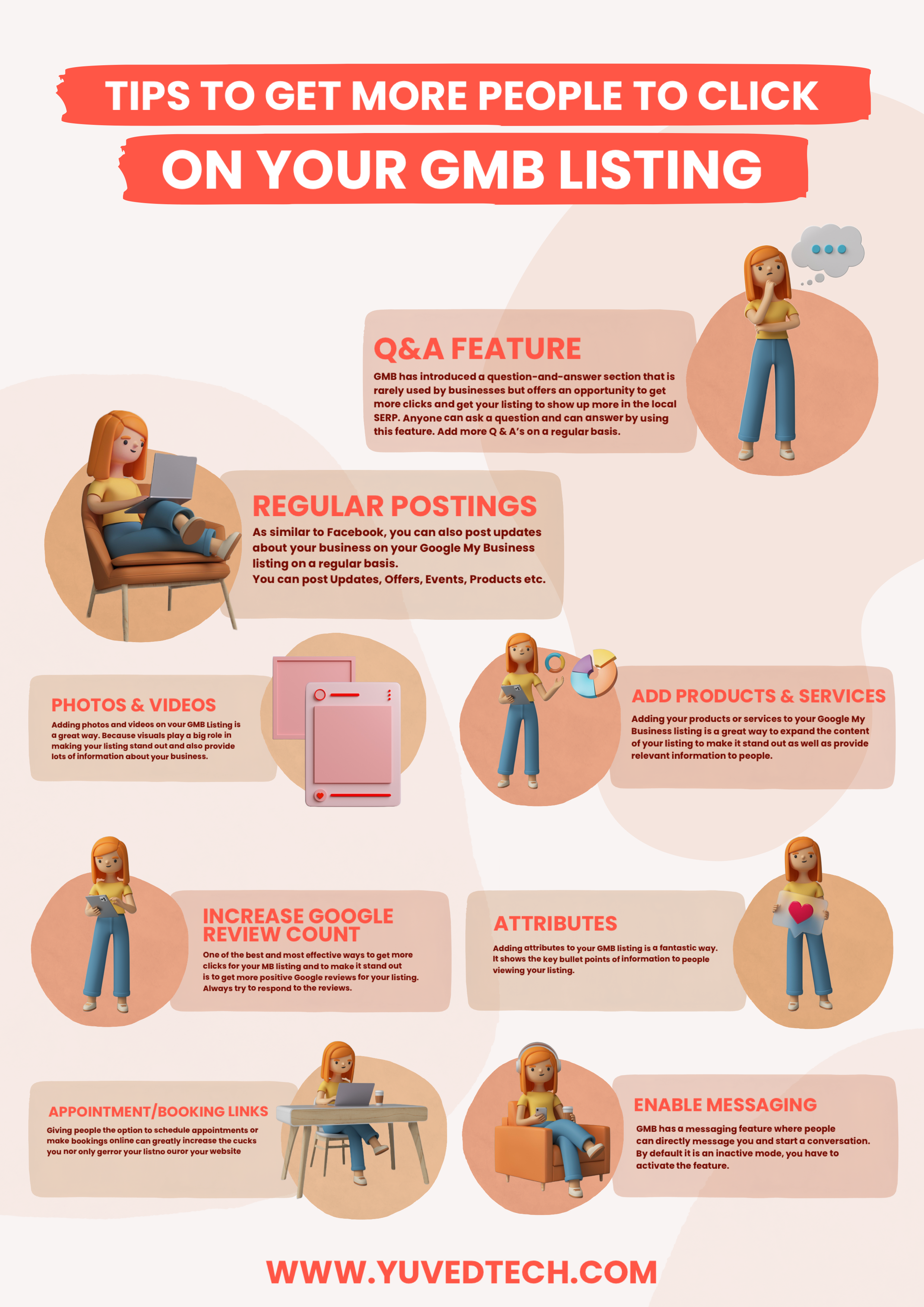 So these are some tips to get more clicks on your GMB and getting rank your website in SERP.