Link building is an essential part of any SEO strategy, and if done properly, it can help a website rank higher in search engine results. By learning some advanced link-building tactics, site owners can take their existing strategies to the next level and gain more visibility in SERPs.
Use Relevant, High-Quality Sources.
When building links, it's important to be selective and use sources that are relevant and high-quality. This means targeting sources with a high domain authority (DA), as well as choosing websites that have content related to your own website. Relevant sources will be more likely to link back to you, which can help give your SEO efforts a boost. Additionally, connecting with influencers in your field or getting coverage from reputable news outlets is also an effective link-building strategy.
Focus on Building Natural Links.
Natural links are any links that have been naturally acquired over time, rather than manually added to an existing website or blog. Building natural links is a much safer SEO practice compared to more manipulative link-building tactics such as buying links from link farms. Focus on creating quality content that offers value and make sure your website is easily shareable so visitors can more easily spread the word about your business. Link-worthy content should also be regularly promoted across social media platforms and other online resources, this will help you get more eyes on what you're sharing, and ultimately result in natural backlinks being created.
Make Anchor Text Relevant and Descriptive.
Anchor texts play a crucial role in building backlinks as they help search engines like Google make sense of links. The anchor text should always be relevant to the content contained on the linked page, and it should always use descriptive words to accurately explain what can be found on the page it's linking to. This helps search engine crawlers gain a better understanding of why the link was added, making sure that your business website is associated with specific keywords related to your content.
Research and Target Keywords That Have the Most Impact.
Knowing which keywords to target for link building is essential for making sure that you're getting the most out of your efforts. Researching and understanding the keywords that have relevance and meaning to your business is one of the first steps in what should be an ongoing process. There are a number of tools available to make this research task easier, such as Google Adwords Keyword Planner, SEO keyword research tool, or SEMrush. Staying on top of industry news and trends will also help you identify popular phrases or terms associated with your product or service.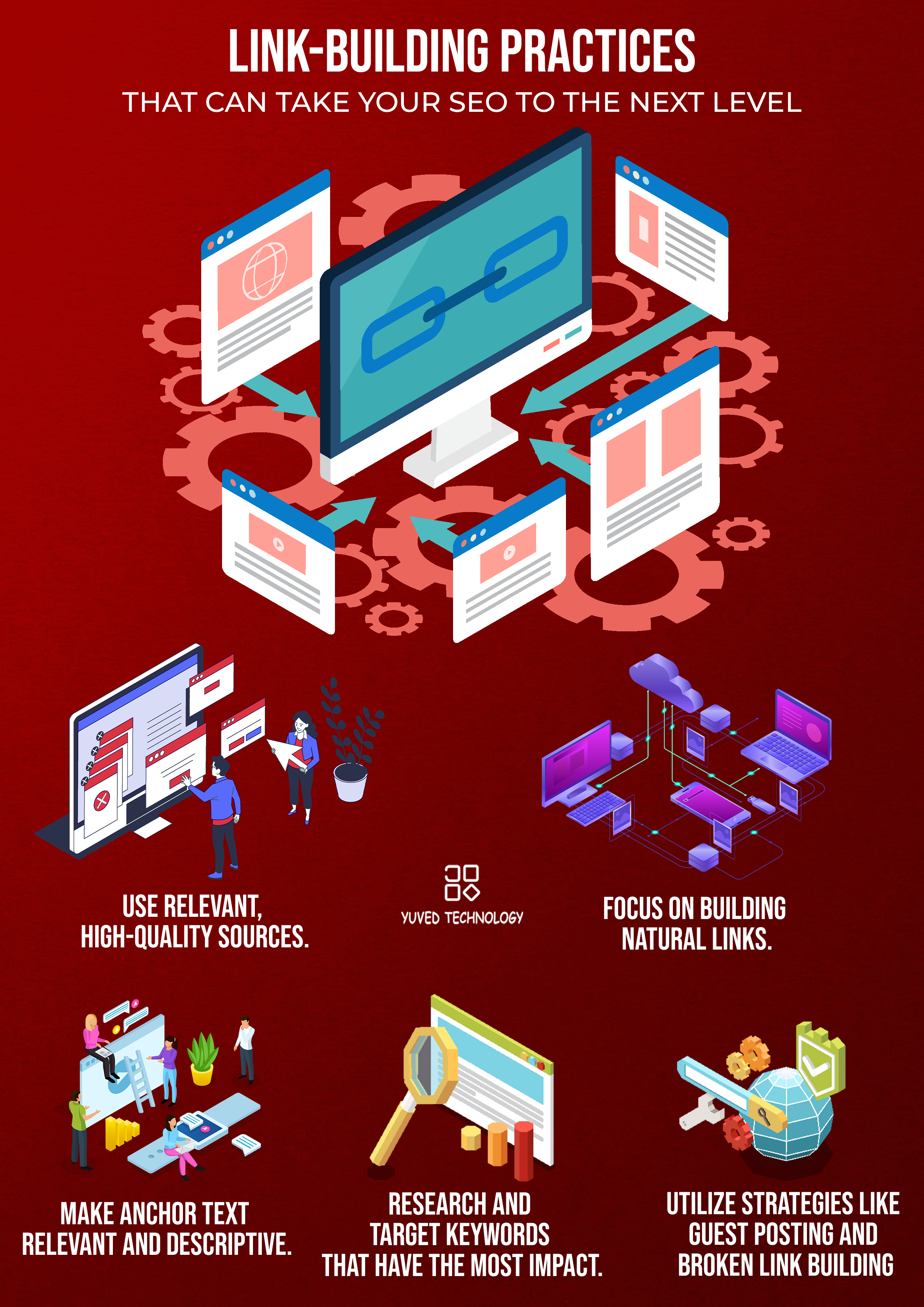 Utilize Strategies Like Guest Posting and Broken Link Building
Link building can be done in a variety of ways, including guest posting and broken link building. Guest posting involves posting content on other people's websites or blogs with links back to your website included in the article as part of the content. It is one of the most effective link-building techniques since you are leveraging an existing readership that is likely to have an interest in what your website has to offer. Broken link building involves finding websites with broken links and then offering an alternative solution that links back to your site. This type of link building not only improves user experience but also connects you with potential referral traffic and high-quality backlinks.