Unlock better conversions and a higher ROI with Unbounce's advanced features. From dynamic text replacement to building custom pages from scratch, there are nine features you should be using to help you drive conversions. Learn the ins and outs of these features here!
Dynamic Text Replacement (DTR).
Dynamic Text Replacement (DTR) is a great feature for copy optimization. DTR allows AdWords to pull in text from your campaign's ad groups and ads, so you don't have to manually make changes. This can help you create targeted landing pages that better match the intent of the searcher and provide them with content they'll find valuable. With dynamic text replacement, users are more likely to stay on the page longer, interact with it, and ultimately convert.
Smart Traffic Targeting.
Smart Traffic Targeting allows you to segment your traffic based on source, time of day, and other criteria. This helps you customize your page to deliver the most relevant message to each visitor. You can create personalizations in real-time that match each user's preferences. This can further improve visitor engagement and conversions by making the experience more personalized and tailored to the needs of the user.
Lead Generation Forms.
Unbounce's Lead Generation Forms make it easier for users to quickly and easily provide their contact information. You can include fields for name, email address, phone number, and other details depending on what you need from your leads. Plus, the forms are optimized for mobile devices so visitors don't have to worry about struggling to fill out a complicated form on their smartphone or tablet.
A/B Testing and Split URL testing. 
A/B testing, also called Split URL testing, allows you to compare two different versions of the same page to see which one performs better. It's useful for discovering which elements are most effective in eliciting a positive response from visitors. Through A/B testing, you can test everything from headlines and images to entire pages or sequences of pages. You can make changes to each variant and then track the results to see which conversion-driving features are working best. By testing out different variations with Unbounce's A/B testing tool, you can optimize your page quickly and easily.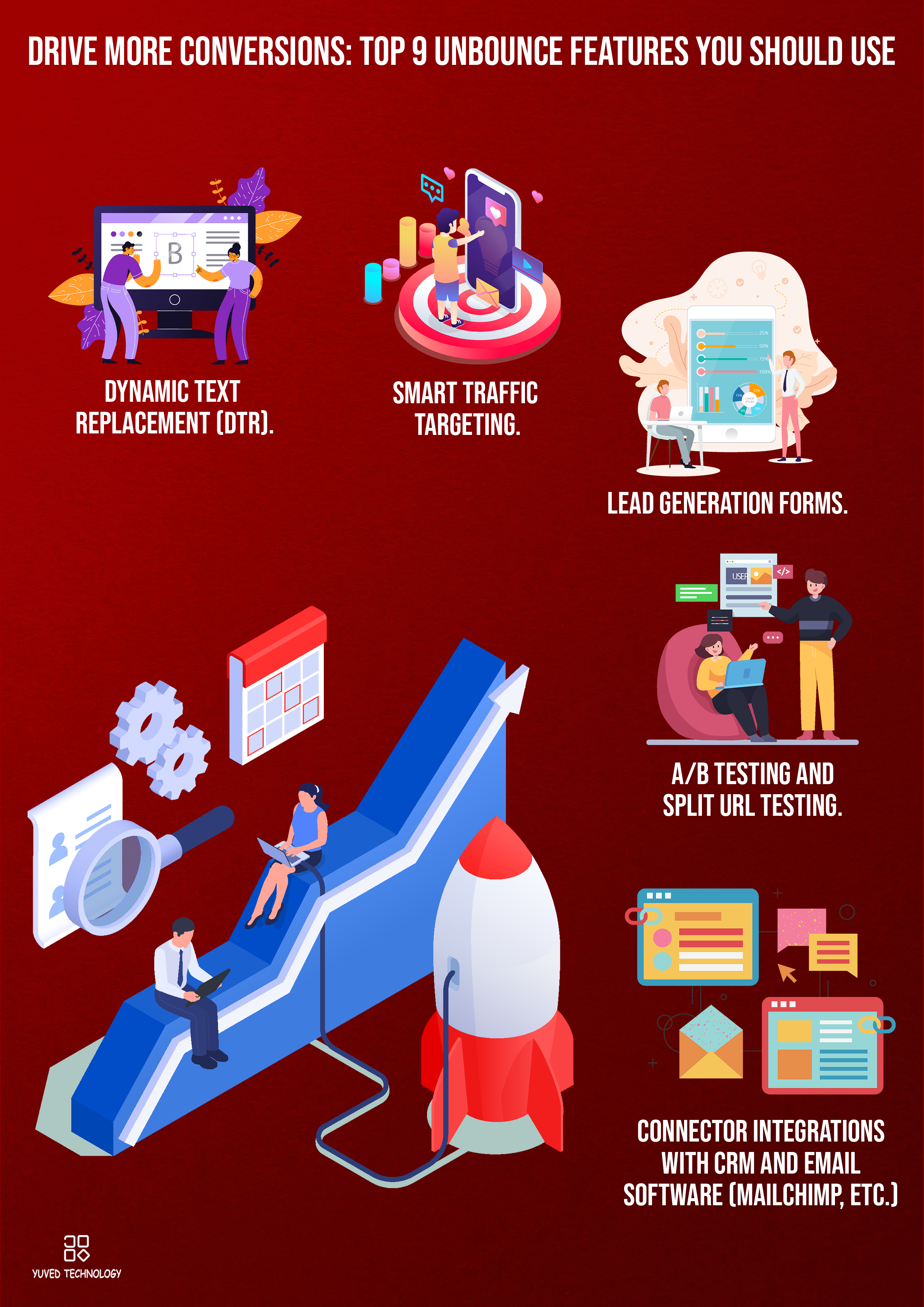 Connector Integrations with CRM and Email Software (MailChimp, etc.) 
Unbounce also offers you the ability to quickly and easily integrate your existing CRMs and email marketing software with your landing pages. This allows you to seamlessly send leads right over to your CRM or MailChimp list so that follow-up communication is automated. You no longer have to manually copy and paste lead info into your CRM or email list, you can set it and forget it with Unbounce's connector integrations.