Are you curating quality content but still not getting the expected results? Are you in a dilemma whether the content that you are curating is earning results at all? Are you just getting started with a brand new content strategy?
If you answered yes to all of the above, you're undoubtedly thinking about how to generate content that your readers would not only read but also love and engage with.
It's an excellent question and one that marketers, in our opinion, don't ask often enough. Is it feasible to develop content that your consumers truly want to read rather than merely churning out stuff to check a box or climb the Google rankings? That they'll actually save and share?
Well then we have got some great news for you; don't doubt the efficacy of your content because Yuved Technology is here with some tips and tricks that would start giving good results.
Well-defined goals
A deep and good understanding of your target audience
Alignment with your buyer journey
Visuals and high shareability
A process for monitoring performance results
A strategy for leveraging insights to enhance your content
We will cover all of the aforementioned themes in this blog so that when you complete reading, you will know exactly how to curate content that will make your readers just come back every time you post new content or subscribe to your newsletter to keep up with the new trends.
Why Good and Engaging Content?
The reality is that your users and readers are looking for information about your brand on search engines before coming to you. Today, 81 percent of customers begin their brand research online, and 93 percent of all online encounters begin with a search. Your content is frequently the first point of contact your clients will have with your brand.
And what if they don't like it? They'll probably search elsewhere.
The environment of digital marketing is likewise congested. Creating content alone will not get you acknowledged or increase your customer base. Your material must be well-written, well-designed, valuable, and targeted to the appropriate audience. It must meet the particular requirements of your target clientele.
In other words, you must understand how to curate content that your target audience enjoys. In the next part, we'll go through the precise measures you should do to get started right away.
How to Curate Content That Your Users and Readers Will Enjoy
Understand and set your goals.
You undoubtedly know what your overarching business goals are, which is a good place to start. Well, the most important question that arises here is do you even know what you want to accomplish with your content? The truth is, that each company's content objectives are unique. Sure, there are certain universal aims — for example, stronger Google rankings and more organic traffic should always be on your list.
Other objectives, however, may be more essential to some businesses than others. Lead generation, for example, is a key goal for the majority of B2B businesses. Driving direct sales through your website is undoubtedly at the top of your agenda as a B2C eCommerce firm. Brand awareness may be the most significant aim for a young business.
The objective is to understand what is most essential to your brand so that your content is appropriately aligned with those aims. The SMART goals framework may be used to develop comprehensive goals that will hold you accountable and drive success.
Define your intended audience.
For whom are you generating content? If you don't know the answer to this question, the majority of your material will be a wild guess. You won't know whether it is significant or relevant or not. You may use various tried-and-true frameworks to identify who your target consumer and audience are. Personas are one you've probably heard of – and one of the most effective.
Customer or buyer personas provide insight into your target customer's demands, motivations, and ambitions. When done correctly, they may be highly effective for producing hyper-relevant and quality content for your audience, eventually driving leads and sales.
Conduct keyword research
Do you believe you have a good understanding of what your consumers are looking for? If so, you're not alone; this is a common pitfall for many businesses. You can't be certain about how your consumers' wants and habits convert into search phrases until you conduct genuine keyword research.
Believe me, you'll be astonished at what you discover when you start researching keywords related to your sector, company, and consumer. While you'll undoubtedly encounter terms and phrases you expected to see, you'll also come across surprises you wouldn't have thought of otherwise. Surprises that provide possibilities to generate new material that your clients will like.
Match your content to the buyer's experience.
Understanding your customer experience is an important element of establishing a great content marketing strategy. And this congruence is critical when it comes to understanding how to develop content that your clients will enjoy.
Here's why: at each point of the buyer journey, potential buyers are seeking different sorts of information. If you provide incorrect information, you risk leaving customers dissatisfied or, worse, going to other businesses to obtain the answer they require.
Aligning your content with your consumer experience ensures that the correct information reaches the appropriate audience at the opportune time. This not only enhances the possibility that users will love your content, but also that they will take the next step toward becoming prospective clients!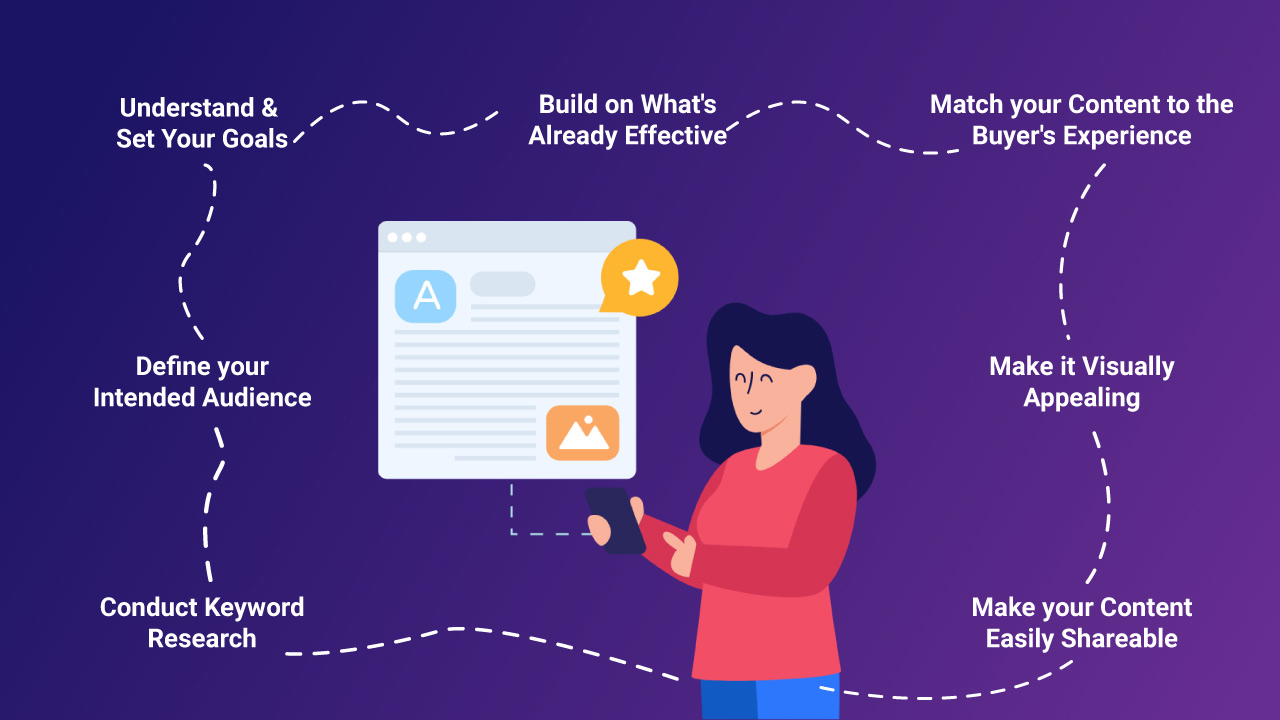 Make it visually appealing
Images, movies, infographics, and anything else that provides a visual element to your content are examples of visual content. It boosts content engagement across all channels and is practically required if you want to develop material that your users will enjoy.
This is what we mean:
Blog posts with graphics receive 94% more views than those without.
Tweets containing photos are 150 percent more likely to be retweeted than text-only messages.
It is a rough guess that an ordinary user is expected to spend 100 minutes per day watching visual content this year.
The way our human brains operate is also influenced by multimedia. A staggering 90% of the information sent to our brains is visual.
It does not have to be tough to incorporate graphics into your material. Certain projects, such as lengthier infographics, may necessitate the use of a design team. However, for the most part, you can obtain photographs and videos from trusted web sources or make your own using free applications and tools such as Canva or your iPhone camera!
Make your content easily shareable
People enjoy sharing content. Conversations are taking place online about every topic and sector in the world, and content is a medium that individuals use to initiate or add to the debate. People also like sharing entertaining stuff for entertainment purposes. Buzzfeed is an excellent example of how providing fun, informal, shareable content can increase traffic and company visibility. Their listicle pieces have become a part of internet culture.
You can encourage people to share your work by first addressing topics they care about (which you already know) and then making it easy for them to share. The second may be accomplished in two ways: by including social sharing buttons on your blog articles and by posting your blog posts on your own social media profiles.
Build on what's already effective.
Quick tip: You don't have to continue making new ones and come up with fresh methods to generate content that your clients would enjoy. Instead, use Google Analytics, your CMS's analytics dashboard, or your own data-driven approach for assessing content performance to decide what your consumers love the most.
Once you've figured it out, figure out how to maintain producing that type of content! If people like your infographics, make more of them. If your clients are responding to a specific topic or blog author, it's time to develop more material on that topic or from that writer.
This method can also work in the reverse direction. You can discover what's working and what's not working by tracking your performance and assessing your content data on a regular basis. Then, in real-time, you can make the necessary modifications to keep your content strategy unique and successful.
Conclusion
Boost your user engagement with great, relevant, and engaging content
Creating content that your users or reader will love takes a great amount of time and experience. The team of writers and SEO experts at Yuved Technology can deliver you customized, SEO-driven content every single week that will ensure to deliver results 100%.