"Over the past couple of years, refreshing and updating old content has become a secret SEO weapon"
Nothing surpasses search engine optimization as an effective, long-term marketing approach for increasing traffic, generating leads, and closing sales. Most marketers believe that SEO is more efficient than PPC. SEO, on the other hand, is frequently changing, with Google often revising its algorithm and ranking elements. Google now ranks web pages based on 200 parameters.
Several new trends in the SEO industry have arisen. Learning about these trends and incorporating them into your SEO strategy can help you beat your competition and rank better on search engine results pages (SERPs).
SEO Trends to Look Upon @2023
Use these SEO trends to help you plan your campaign.
SEO is essential for a website's visibility on the Online platform. And, as technology evolves, search engines algorithms are evolving to provide users with a more streamlined search experience. So, in order to keep up with the ever-changing Seo strategy, prepare your digital marketing strategy for 2023 based on these SEO trends.
Creating third-party data centers
Third-party cookie support is being phased out by search engines such as Google. As a result, in order for enterprises to use user data, they must create their own first-party datahubs. This SEO trend will assist you in developing a focused, personalized internet marketing plan in 2023 to produce more income.
Increasing the page load time
Google has made page loading speed more crucial than ever before by giving it a criterion to consider when ranking your website on SERPs. Well, we are sure you wouldn't want your users to have an unpleasing experience on your website. As a result, ensure that your website runs quickly on all devices.
Optimizing for non-text search strategies
People today utilize search engines to receive information in the form of speech and visuals. Many firms have yet to investigate these cutting-edge, non-text-based search options. Including this SEO trend in your marketing plan in 2023 might provide you with a low sliver of hope to target your audience, generate traffic to your site, create more leads, and improve profit.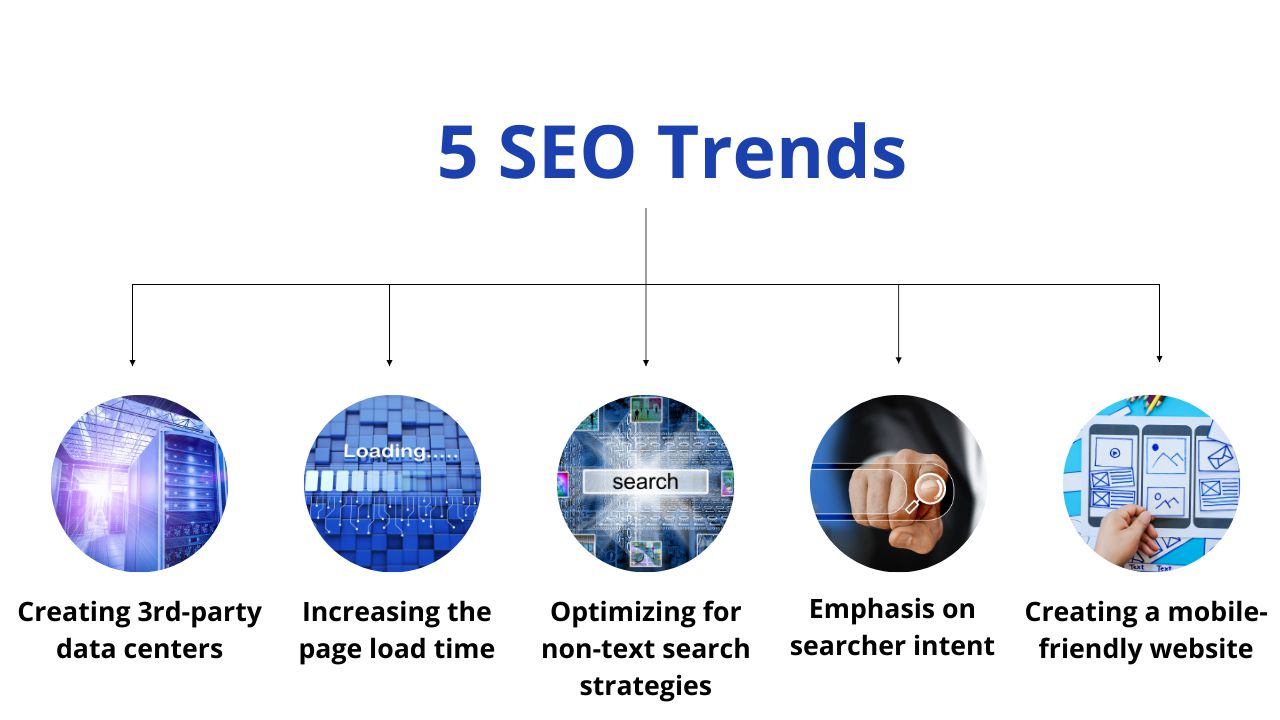 Emphasis on searcher intent
As search engine algorithms become better by the day, they are prioritizing search intent when determining SERP ranking. This SEO trend in 2023 analyses what searchers want to do when they search for a specific keyword. As a result, be certain that your SEO-friendly content is written with the appropriate user intent.
Creating a mobile-friendly website
Nowadays, smartphones contribute to more than 60% of all searches. Prioritizing mobile responsive websites to your users should be a mandate since you wish to provide your users and readers with an impressive searching experience. Furthermore, as this is an important ranking criterion for Google, you should verify that your webpage is screen compatible.
What's Next?
SEO has been critical in raising brand recognition, generating leads, and driving sales for organizations, and it will continue to be so in 2023. Search engines, on the other hand, are becoming smarter and pickier about the pages they rank. Therefore, keeping up with trends is important.
Well, now that you have learned about the upcoming SEO trends, it is time to start executing them. Add these elements to your SEO strategy to outshine your competitors and grow your business on a large scale.
If you still got questions or feel that you require some extra help chalking out your SEO marketing strategy, then feel to connect with Yuved Technology, with our robust team of SEO experts you will be easy to outshine your competitors.