As 2023 is about to dawn, marketers are reminiscing the ramifications of 2022's challenges. Among the many digital channels, LinkedIn has emerged as a powerful weapon to combat marketing challenges and we would say for all the right reasons!
With more than 774 million global users, LinkedIn boasts of being one of the most influential platforms for professionals. The platform is used by individuals who would like to connect with like-minded professionals from all across the globe. Savvy marketers are gravitating towards LinkedIn to drive growth and the reasons are evident. It is the third most used social media platform among business owners, which makes LinkedIn marketing a goldmine for B2B businesses.
There are many reasons why LinkedIn marketing has become the need of the hour. Let's delve into some of these reasons and find out why LinkedIn can be your brand's next big shot across social media.
LinkedIn is Thriving Globally
Apart from its 774 million + users, the platform is active in 200+ countries. There are more than 55 million companies on LinkedIn and more than 2.9 million groups including company and university alumni groups, industry and interest communities, and professional associations. The LinkedIn community is stronger than ever and there are 55% more conversations between LinkedIn users. If your business has a profound impact on a platform as thriving as LinkedIn, it invariably and implicitly means better outreach for your brand.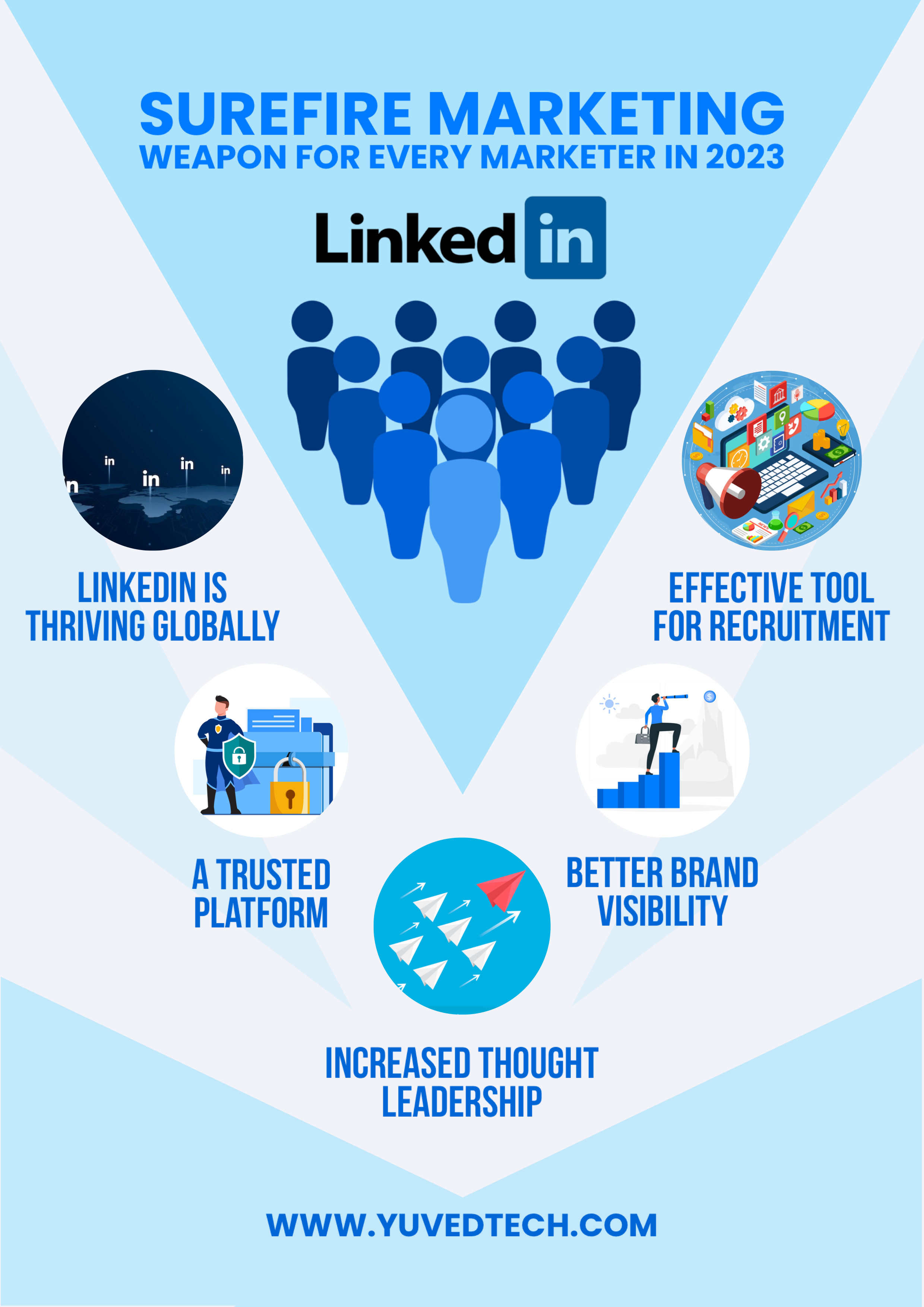 A trusted platform
For both B2B and B2C ventures, customer trust is everything. Enterprises that want to drive brand awareness or build business credibility can pick LinkedIn because Business Insider has been ranking LinkedIn as the #1 most trusted social media platform for three consecutive years. When brands are on a reliable platform like LinkedIn, they are perceived to be more professional, intelligent, and respectable.
Better brand visibility
As LinkedIn has emerged as the top platform for marketers in the past few years, not even a single social media platform beats LinkedIn when it comes to brand visibility. With a well-optimized LinkedIn profile, brands can increase their online visibility and increase their credibility for more leads.
Increased thought leadership
LinkedIn is the most effective channel for establishing thought leadership. One of the most significant advantages of LinkedIn is its professional content distribution. There is no other social media network that can be an excellent way to raise brand awareness through content.
Effective tool for recruitment
LinkedIn can also be a great way to recruit top skills for your organization. As per LinkedIn's research, the platform has seen an increment of 73% in job recruitment usage. LinkedIn is a pool of professionals and you can find skilled employees for your organization across multiple domains.
The bottom line
The importance of LinkedIn marketing is immense for brands. Although social media giants like Facebook are still atop the engagement list, LinkedIn is the most successful social media site in terms of professional networking and finding new talent. Whether you want more visibility for your business or you are just looking for recruitment, a rock-solid LinkedIn marketing strategy from Yuved Technology can go a long way.